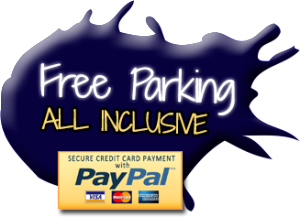 To attend a paint night, PRE-REGISTRATION IS REQUIRED, we do not accept payment at the studio unless prior arrangements have been agreed upon. All adult sessions are $35.00, kids sessions are $25.00. Canvases are 16″ x 20″ for adults, 9″ x 12″ for kids unless otherwise stated. We supply everything needed to create your custom work. Enjoy 2 FREE beverages and snacks. You must be 21 or older and provide a valid state ID for wine and beer. We also offer soft drinks, water, coffee and tea. Our sessions start promptly at the times listed, please try to arrive 10-15 minutes before the start time of the session. Click on the event name to reserve your seats. Relax, have fun, find the artist within you and experience our unique personalized service at Paint the Town Studios!!
Click here to purchase your Gift Certificates
$5.00 off any July public paint night (Glass Block Light excluded). Offer ends midnight June 30th! Discount is already applied, just point, click and save!
Sunday
Monday
Tuesday
Wednesday
Thursday
Friday
Saturday

25

June 25, Sunday

26

27

June 27, Tuesday

28

June 28, Wednesday

29

June 29, Thursday

30

June 30, Friday

1

July 1, Saturday

2

July 2, Sunday

3

4

July 4, Tuesday

5

July 5, Wednesday

6

July 6, Thursday

7

July 7, Friday

8

July 8, Saturday

9

July 9, Sunday

10

11

12

July 12, Wednesday

13

July 13, Thursday

14

July 14, Friday

15

July 15, Saturday

16

July 16, Sunday

17

18

19

July 19, Wednesday

20

July 20, Thursday

21

July 21, Friday

22

July 22, Saturday

23

July 23, Sunday

24

25

26

July 26, Wednesday

27

July 27, Thursday

28

July 28, Friday

29

July 29, Saturday

30

July 30, Sunday

31

1

2

3

4

5