Paint the Town is the perfect place to come and sit back, relax and create your own custom work!
About Us…….At Paint the Town, we are passionate for the arts, creativity and a great social activity with family or friends. We want you to be able to walk away with not only your expression of art but with remembering the laughter and pleasure of knowing you created something you can proudly adorn your home with. There is nothing that makes us happier than to see you take a blank canvas and have your unique work come to life and of course with all the smiles to go with it! Our studio is set up for you to be comfortable while you paint. So come in, relax and experience our personalized service. We are committed to provide the best customer service in the industry!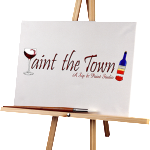 We offer many different types of events, including fundraisers for any organization and we can tailor it to your satisfaction. Visit our Plan a Party page for more information. Want a custom painting done for your group? Not a problem at Paint the Town, just let us know and we will work with you to create your custom work. Painting sessions just for the kids are also available.
We appreciate your business and for that we have a customer loyalty program! Click here for all the information.
More questions? Check out our FAQ's here, give us a call 401-440-8508 or drop us an email info@paintthetownstudios.com.
Join Our Email List For News, Events & Specials